Vote For Us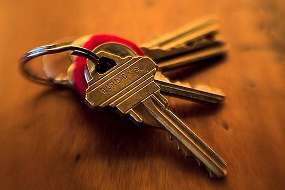 Jakarta
- Kunci kasat mata dikembangkan oleh peneliti-peneliti dari Taiwan. Dengan 'kunci' ini, pemilik rumah tak perlu takut lagi kehilangan kunci.
Alih-alih memasukkan kunci di lubangnya untuk membuka pintu, pemilik rumah hanya tinggal melakukan pengulangan gerak tangan di depan pintu agar bisa masuk rumah. Inilah hasil dari teknologi yang diciptakan oleh Tsai Yaoi-pin beserta timnya.
"Di masa depan, Anda tidak usah khawatir lagi kehilangan atau kelupaan menaruh kunci," ujar Tsai.
Dijelaskan lebih lanjut oleh Tsai Yao-pin yang mengajar di Technology and Science Institute of Northern Taiwan, timnya memakai sebuah chip yang biasa dipakai di konsol video game Wii sebagai teknologi intinya. Chip ini mampu mendeteksi pergerakan 3 dimensi.
Selain menggantikan fungsi kunci tradisional, teknologi yang dibuat Tsai juga bisa dipakai untuk meringankan pekerjaan rumah. Ia diklaim bisa dimanfaatkan untuk menghidupkan dan mematikan peralatan rumah tangga, seperti mesin cuci, lemari es, dan lain-lain.
Kunci
invisible
ini akhirnya membuat Tsai dan timnya memenangkan medali emas di ajang 2011 Taipei International Invention Show and Technomart. Ajang tersebut diadakan pada 29 Oktober-2 Oktober lalu.
Dikutip
B-C NET
dari AFP, Senin (3/9/2011), Tsai memperkirakan butuh waktu selama setengah tahun untuk mengkomersialkan penemuannya. Sejumlah perusahaannpun dilaporkan sudah tertarik untuk menggarap 'kunci kasat mata' itu.