Vote For Us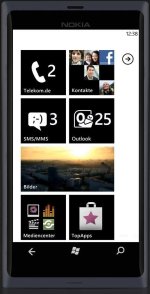 Jakarta
- Smartphone Windows Phone pertama buatan Nokia tengah ditunggu kehadirannya. Berbagai bocoran soal handset tersebut menyeruak ke permukaan. Bocoran terbaru menampilkan wujudnya secara jelas.
Bocoran tersebut ditampilkan di website The Nokia Blog. Wujud ponsel yang konon kode namanya Searay ini tampak meyakinkan dengan interface Windows Phone 7. Bentuknya identik dengan N9, ponsel Nokia yang memakai OS MeeGo.
Seperti dikutip
B-C NET
dari The Nokia Blog, Senin (3/10/2011), foto handset yang diduga Windows Phone Nokia ini disertai kata-kata dalam bahasa Jerman dan logo operator T Mobile. Tampaknya, T Mobile adalah salah satu operator yang akan menjualnya.
Jika diterjemahkan, terkuak sedikit spesifikasi handset tersebut. Di antaranya sudah memakai Windows Phone Mango 7.5, layar 3,7 inch AMOLED dan voice navigation.
Belum jelas apakah gambar ini otentik atau tidak karena pihak Nokia masih tutup mulut mengenai wujud handset Windows Phone besutannya. Nokia berencana meluncurkan Windows Phone di akhir tahun 2011 ini.