Vote For Us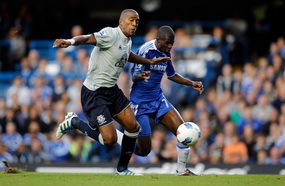 London
- Chelsea meraih poin sempurna dalam laga kandang melawan Everton.
The Blues
menang dengan skor 3-1 lewat gol-gol Daniel Sturridge, John Terry, dan Ramires.
Bertanding di Stamford Bridge, Sabtu (15/10/2011), Chelsea menurunkan trisula Juan Mata, Didier Drogba, dan Sturridge di lini depan. Di tengah, Frank Lampard kembali dipasang sebagai starter.
Tim tuan rumah menutup babak pertama dengan keunggulan 2-0. Setelah Sturridge memecah kebuntuan pada menit ke-31, Terry juga ikut menyumbangkan gol beberapa saat sebelum jeda.
Pada babak kedua, kedua tim sama-sama mencetak satu gol. Gol Chelsea dicetak oleh Ramires, sementara gol Everton diciptakan oleh Apostolos Vellios.
Kemenangan ini tak mengubah posisi Chelsea di peringkat ketiga klasemen sementara Liga Primer Inggris dengan 19 poin dari delapan laga. Mereka terpaut satu poin dari Manchester United yang ada di posisi kedua dan tiga poin dari Manchester City yang ada di puncak.
Everton terpuruk di peringkat ke-14 karena baru mengumpulkan tujuh poin dalam tujuh pertandingan.
Jalannya pertandingan
Tim tamu mengancam pada menit ke-11 lewat sepakan Louis Saha. Namun, Petr Cech masih sigap menjinakkan bola.
Chelsea tak mendapatkan peluang berarti pada 30 menit pertama. Sepakan Ramires pada menit ke-23 melambung jauh tanpa menemui sasaran.
Pada menit ke-31, barulah The Blues memecah kebuntuan. Diawali umpan brilian Juan Mata kepada Ashley Cole, bola kemudian dikirim Cole ke mulut gawang di mana ada Sturridge yang dengan dingin menanduk bola.
Terry menggandakan keunggulan keunggulan tim tuan rumah pada masa injury time babak pertama. Menyambut tendangan bebas Frank Lampard, sundulan kapten timnas Inggris itu bersarang di gawang Tim Howard.
Everton punya kans bagus pada awal babak kedua. Sial buat Leon Osman, tembakannya memang sudah menaklukkan Cech, tapi masih menerpa tiang gawang.
Keunggulan Chelsea bertambah pada menit ke-62. Mata yang menusuk dari sisi kiri mengirim umpan silang ke mulut gawang yang sukses dicocor Ramires.
Everton mencetak gol hiburan pada menit ke-81. Vellios yang baru beberapa detik berada di lapangan sukses menyontek bola hasil umpan silang Royston Drenthe ke dalam gawang.
Susunan pemain:
Chelsea: Cech; Bosingwa, Ivanovic, Terry, Cole; Ramires (Malouda 65'), Mikel (Romeu 77'), Lampard; Sturridge, Drogba, Mata (Anelka 77')
Everton: Howard; Hibbert, Jagielka, Distin, Baines; Osman, Rodwell, Fellaini, Coleman (Drenthe 61'), Cahill (Neville 72'); Saha (Vellios 81')