Vote For Us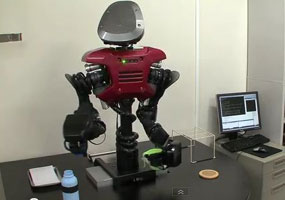 Jakarta
- Terobosan yang berhasil dilakukan oleh para insinyur robot di Jepang memang amat mengagumkan. Kali ini mereka berhasil membuat robot yang mampu berpikir dan bertindak sesuai kondisi.
Robot tersebut dibuat oleh Hasegawa Group, dari Tokyo Institute of Technology. Di dalamnya terdapat sebuah fitur bernama
self-replicating neural network
, yakni teknologi yang memungkinkan sebuah robot mempelajari segala sesuatu yang berada di sekitarnya. Jadi tak melulu hanya mengandalkan perintah dari pembuatnya.
"Sejauh ini, robot yang berhasil diproduksi hanya bisa mengerjakan tugas tertentu. mereka tidak bisa beradaptasi dengan perubahan lingkungan sekitar. Berbeda dengan robot ini, ia hanya mengetahui pengetahuan dasar kemudian bisa mengembangkannya," ujar Osamu Hasegawa, Associate Professor, Imaging Science and Engineering Lab, Tokyo Institute of Technology.
Seperti dikutip
B-C INFO,
dari Gadgethit, Kamis (4/8/2011), Hesegawa juga mencontohkan sebuah kasus dimana robot tersebut ditantang untuk membuat teh, padahal hal ini tidak termasuk dalam programnya.
"Robot tersebut akan berkata 'saya tidak bisa' tapi jika kita mengajarkannya, maka ia akan mengumpulkan segala informasi untuk melakukan hal tersebut," tambah Hasegawa.