Vote For Us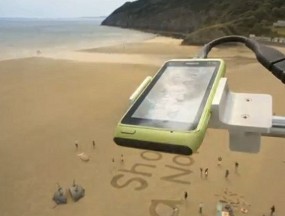 Jakarta
- Sebuah promo unik diluncurkan oleh Nokia untuk mendongkrak popularitas smartphone N8. Promo berupa animasi
stop motion
ini bahkan diganjar rekor sebagai yang terbesar oleh Guinness Book of World Records.
Kelesuan Nokia di pasar ponsel pintar sepertinya menjadi alasan kuat di balik pembuatan animasi unik tersebut. Sehingga untuk menarik perhatian pengguna, sebuah kreativitas pun dilahirkan vendor asal Finlandia itu.
Animasi yang pengambilan gambarnya dibuat di sebuah pantai di kawasan South Wales ini memakai 3 buah Nokia N8 yang ditempatkan di sebuah crane dengan ketinggian 40 meter di atas air.
Kamera beresolusi 12 MP dan kekuatan lensa Carl Zeiss yang dimiliki N8 dimaksimalkan untuk menghasilkan efek terbaik dalam video ini.
Cerita di video tersebut mengisahkan tentang seorang pemancing yang menangkap ikan dari perahunya. Ketika ia mendapatkan ikan, tiba-tiba si pemancing yang diperankan oleh seorang artis film ini ditelan oleh monster laut.
Untuk menghasilkan video yang diberi judul 'Gulp' tersebut Nokia menggandeng tim Sumo Science dari studio animasi Aardman. Membutuhkan waktu selama 5 hari untuk menuntaskan video promosi yang mengetengahkan keunggulan N8 itu.
Dan akhirnya,
video
berdurasi kurang dari 2 menit ini diganjar oleh Guinness Book of World Records sebagai video animasi terbesar karena memanfaatkan area seluas 11.000 kaki.