Vote For Us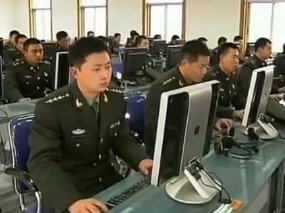 Jakarta
- Pembuatan game tembak-tembakan yang dibuat khusus untuk militer China telah dirampungkan. Game bertajuk 'The Glorious Mission' ini pun siap melatih keterampilan berperang angkatan bersenjata Negeri Tirai Bambu.
The Glorious Mission adalah jenis game
first person shooter
(FPS). Dikutip
B-C NET
dari Reuters, Kamis (30/2/2011), pemain bisa memainkannya secara individual maupun berkelompok. Perlu waktu 32 bulan untuk mengembangkan game ini agar skenarionya sangat mirip dengan medan perang sesungguhnya.
"Saya rasa mungkin saja game ini nantinya akan terbuka bagi siapa saja. Mereka yang mengagumi militer China bisa mengunduh dan memainkannya," ujar juru bicara militer China seraya menambahkan bahwa versi final game ini diluncurkan pada 20 Juni yang lalu.
China, seperti diketahui adalah salah satu negara dengan jumlah pengguna internet terbesar di dunia. Berdasarkan data statistik terbaru yang dirilis pemerintah setempat, negeri tirai bambu ini memiliki lebih dari 300 juta pemain game online.
Adalah People's Liberation Army (PLA) China yang berada di balik pembuatan video game ini. Hanya saja, PLA bekerja sama dengan Wuxi Giant Interactive Group untuk menciptakan game yang memiliki nama lain 'Mission of Honor' ini.
Game ini memiliki tiga model permainan dan mengambil latar belakang kisah tentang aktivitas tentara di kamp militer. Dalam sebuah pasukan, 32 prajurit dapat log on pada waktu bersamaan untuk memulai misi penyerangan.
Militer China sendiri sebelumnya telah memanfaatkan pelatihan melalui video game, namun aplikasi yang digunakan kala itu dibuat oleh perusahaan asing. Kini, PLA ingin membuat game yang lebih 'nasionalis' dan dekat rakyat China. Sehingga dalam kontennya bisa ditanamkan nilai-nilai China dan menghindari unsur yang dapat 'menyesatkan'.