Vote For Us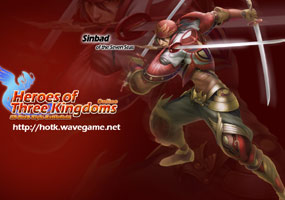 Jakarta - Heroes of Three Kingdoms tak lama lagi akan hadir di Indonesia. Game online ini dijanjikan akan sangat memikat karena menggabungkan cita rasa Massively multiplayer online role-playing game (MMORPG) dengan gaya bertempur ala DoTA.

Game berjenis MMORPG memang telah banyak beredar di Indonesia, tentunya dengan masing-masing kelebihan yang ditawarkan. Mulai dari mengedepankan kualitas grafis, hingga sistem permainan menarik.

Khusus untuk Heroes of Three Kingdoms memiliki keuinikan tersendiri. Game ini tidak hanya mengisahkan pertempuran epic di Bukit Merah yang melegenda, namun para hero dan pertempuran yang berbeda.

"Heroes of Three Kingdoms itu bisa dibilang kombinasi dari game RPG. Quest-nya lebih bersifat PVP, sedangkan area battle-nya mirip dengan gaya DoTa," jelas Sanjaya Wahono, Director PT Wave Wanaha Wisesa selaku penerbit Heroes of Three kingdoms di Indonesia.

Namun untuk menikmati seluruh fitur dalam game ini pemain harus sedikit bersabar. Sebab, Heroes of Three Kingdoms Online di Indonesia baru secara resmi dibuka pada bulan Juli 2011 mendatang.

"Untuk saat ini kami masih memperbaiki beberapa bug, setelah mendapatkan perbaikan dari pihak pengembang baru kami bisa rilis," tambah Sanjaya, di Restoran Raja Rasa, Rabu (22/6/2011).

Heroes of Three Kingdoms memang terbilang cukup unik. Game ini coba memadukan pertempuran gaya barat dengan budaya China. Hal itu coba dibuktikan dengan beberapa campuran hero yang bisa dimainkan, seperti Liu Bi, Sun Jian, Sinbad, Raja Arthur, dan beberapa tokoh lainnya.