Vote For Us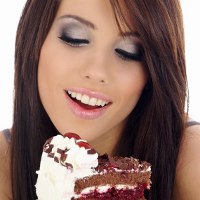 Jakarta,
Mencegah terjadinya kenaikan berat badan hingga menyebabkan kegemukan sangat mungkin dilakukan, terutama dengan mengontrol asupan makanan. Studi menemukan ada 5 makanan yang bisa dan tidak bisa membuat Anda gemuk. Apa saja?
Sebuah studi yang dilakukan peneliti dari Harvard School of Public Health menemukan bahwa mengurangi asupan makanan tertentu, tidur 6 sampai 8 jam setiap malam, olahraga dengan cukup dan mematikan televisi, dapat membantu mengurangi berat badan.
Peneliti juga menemukan lima makanan yang sangat terkait dengan berat badan dan lima makanan lainnya yang terkait penurunan berat badan rata-rata.
"Pesan di sini bahwa jenis dan kualitas makanan dan minuman adalah sangat penting," kata Dariush Mozaffarian, MD, DrPH, associate professor kedokteran dan epidemiologi di Harvard School of Public Health, Brigham and Women's Hospital dan Harvard Medical School, seperti dilansir
WebMD,
Sabtu (24/6/2011).
Dalam studi ini, peneliti mempelajari 120.000 peserta selama 4 tahun. Mozaffarian mengatakan bahwa studi baru ini menunjukkan bagaimana beberapa faktor gaya hidup, termasuk pola makan terkait dengan berat badan jangka panjang.
Hasil studi menemukan ada 5 jenis makanan yang paling menaikkan berat badan serta sebaliknya 5 makanan yang paling tidak bisa menaikkan berat badan, yaitu:
Makanan yang paling bisa menaikkan berat badan
Keripik kentang
Olahan kentang lain
Minuman manis
Daging merah yang tidak diproses
Daging olahan
Makanan yang paling tidak bisa menaikkan berat badan
Sayuran
Biji-bijian
Buah-buahan
Kacang-kacangan
Yogurt
Hasil studi telah dipublikasikan dalam
New England Journal of Medicine.