Vote For Us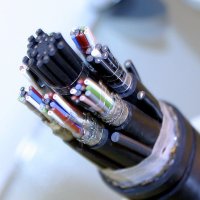 Jakarta
- Para ilmuwan membukukan rekor dunia dengan memungkinkan mentransfer lebih dari 100 terabit data per detik melalui serat optik tunggal.
Sebagian besar orang mungkin tak punya gambaran, seberapa banyak 100 terabit data. Dilansir TG Daily dan dikutip
B-C NET
, Selasa (3/5/2011), 100 terabit setara dengan 'isi' kedua sisi 250 keping Blu-ray atau sama juga dengan tayangan video HD selama tiga bulan penuh.
Salah satu ilmuwan, Dayou Qian dari NEC menyebutkan dia berhasil mencapai tingkat transmisi data pada 101,7 terabit per data melalui serat optik sepanjang 165 kilometer.
Qian bisa melakukannya dengan 'memeras' tekanan cahaya dari 370 laser berbeda ke dalam tekanan yang diterima receiver. Setiap laser memancarkan spektrum inframerah masing-masing dan setiap spektrum tersebut berisi sejumlah polaritas, fase dan amplitudo gelombang cahaya untuk mengkodekan setiap paket informasi yang ditransfer.
Sementara itu, Jun Sakaguchi dari National Institute of Information and Communications Technology di Tokyo, Jepang, juga berhasil mentransfer 100 terabit data per detik dengan mengembangkan serat optik dengan tujuh light guiding cores.
Setiap core membawa 5,6 terabit data per detik, sehingga total menghasilkan 109 terabit per detik.
"Kami memperkenalkan dimensi dan perkalian ruang untuk meningkatkan kapasitas transmisi," kata Sakaguchi.
Kecepatan transfer hingga 100 terabit per detik ini dinilai sebuah penemuan yang lebih maju bila dibandingkan dengan kapasitas yang ada sekarang ini.
Ting Wang dari NEC yakin aplikasi transmisi 100 terabit ini akan sangat bermanfaat digunakan data center seperti perusahaan internet raksasa seperti Google, Facebook dan Amazon.