Vote For Us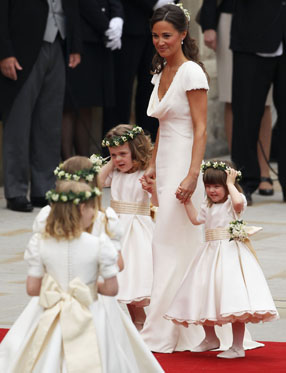 Jakarta
Di hari pernikahannya, Kate Middleton didampingi sang adik, Philippa Charlotte yang akrab dipanggil Pippa. Penampilan Pippa hari itu juga menarik perhatian masyarakat dunia.
Seperti dilansir Telegraph, Sabtu (30/4/2011), Pippa terlihat sangat cantik mengenakan gaun berwarna putih gading yang juga dirancang oleh Sarah Burton. Gaun tersebut pun sangat sederhana dan dianggap sangat pas melengkapi gaun Kate yang sedikit lebih rumit.
Begitu keluar dari hotel Goring, Pippa langsung menarik perhatian masyarakat di sana. Perempuan yang kini berusia 27 tahun itu pun mendapat banyak pujian di situs jejaring sosial. Bahkan namanya sempat menjadi Trending Topic di Twitter.
"Pippa Middleton terlihat benar-benar menakjubkan! Saya pikir saya jatuh cinta," tulis salah satu pengguna Twitter.
Pippa pun sukses menjalani tugasnya sebagai
maid of honour
. Ia terlihat sangat tenang dan penuh percaya diri saat mendampingi Kate di Gereja Westminster Abbey .
Sehari-hari, Pippa yang lahir di Berkshire, Inggris pada 6 September 1983, bekerja di perusahaan milik keluarganya sebagai perancang pesta. Pippa merupakan lulusan University of Edinburgh.